Personalized Brief Ceremonies
Micro Ceremonies and Civil Ceremonies
Pop-ups, Elopements and Signings
In the midst of COVID, more and more couples are considering alternatives to a formal wedding.
Intimate weddings are a great choice for many couples.
If you want a brief ceremony (civil or spiritual) with a small gathering of friends and family or a micro, pop up, elopement, or a simple signing officiated by a warm hearted, fun-loving officiant who can make it feel special, let's meet!
Prompt and personal contact with me
My lovely office, which is located in a 1930s St Paul home, is available for micros and signings. A nearby park is also available.
Great location ideas for you
Your choice of day and time
Vows ~ traditional, contemporary or write your own
Signing - $150
License signing at my lovely office is a very brief ceremony, including vows and pronouncement of marriage, to which you bring 2 witnesses. When weather permits there is the option of a nearby park location.
Pop-up - $200 to $250
"License signing" at a public location of your choice in St Paul or Minneapolis (or Stillwater where I live!) ... consider parks, museums, art galleries, restaurants, a favorite spot ... use your imagination! You bring 2 witnesses. Fee varies depending on location.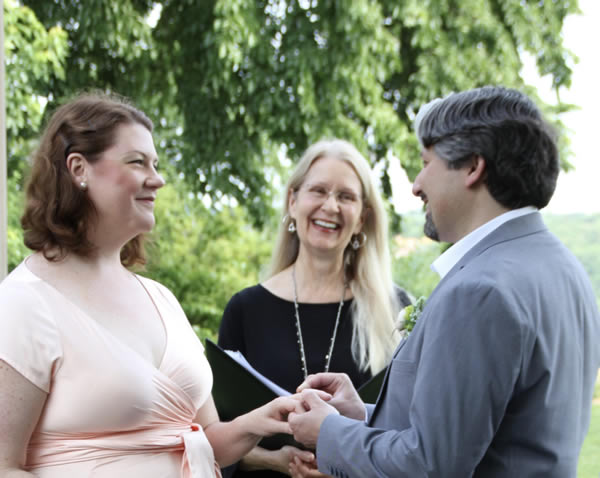 Micro - $250
Get married in a private, brief ceremony in my lovely office or at a nearby park ~ includes a brief planning conversation to add a personal touch... Includes up to 6 guests.
Personal, Brief Ceremony - $350
Includes a ceremony planning conversation to personalize your ceremony which can be held at a venue of your choice (with exception of homes during COVID). Includes up to 25 guests. Consider parks, restaurants, art galleries, breweries and boutique hotels for your location ... there are lots of options! I have ideas!
"Kjersti is the absolute best at what she does! Kjersti met with us to plan the BEST wedding ceremony we could imagine. She has a wonderful spirit and a kind heart, and she went over and beyond for us. She is amazing at small, intimate, "alternative" weddings." ~ Anna & Kevin
"I have witnessed many marriages officiated by judges and there is no comparison.  Those ceremonies were not even in the same league as what we just experienced."~ Elliot & Mary